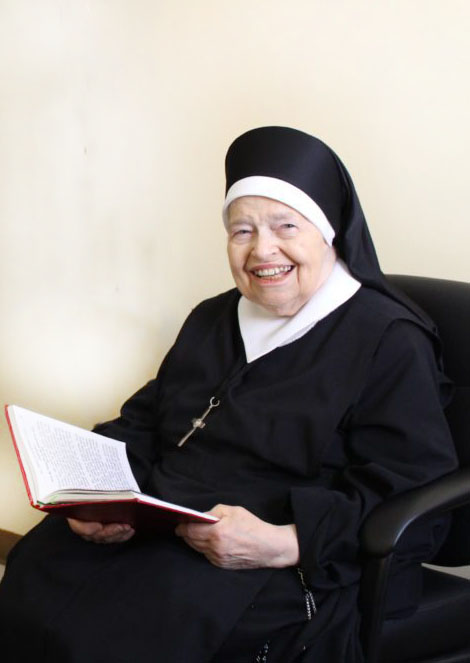 Sister Marie Bernadette Garceau, 90, Sister of Charity of Our Lady, Mother of the Church, entered eternal life on March 16, 2023 at the Motherhouse of the Sisters of Charity in Baltic CT.
Sister was born in Willimantic, CT on February 6, 1933, the daughter of the late Ovila and Rhea (Lajeunesse) Garceau. She entered Religious Life on October 22, 1950 and professed perpetual vows in 1955.
After earning degrees in education, Sister taught first grade for nearly seventy years, in New Hampshire, Minnesota, Willimantic, Taftville, Old Saybrook and Baltic. She was dearly loved by her students. She retired to the health center at Holy Family Motherhouse where she spent her last years prayerfully and joyfully involved in the lives of her Sisters. She enjoyed hearing about her relatives and former students, especially those who had entered the priesthood and consecrated life. 
Besides her Sisters of Charity, Sister Bernadette is survived by her sister Agnes McTott, and her many loving nieces and nephews and their extended families. Sister taught a number of them in elementary school and was active in their lives growing up in Willimantic.  During her years in Minnesota Sister enjoyed close friendships with the Sisters and families of her students there, friendships which have endured to the present. Sister will be deeply missed by all who knew her.
Sister was predeceased by her sisters Marie, Viola, Lorraine, Lucille and Ann Marie, and her brothers Roland, Edmond, Arthur, Louis, Walter, and Robert.
A  Mass of Christian Burial will be celebrated by her nephew Rev. Hildebrand Garceau, O. Praem. at Holy Family Motherhouse on Tuesday, March 21 at 3:30 p.m. with burial following in St. Mary Cemetery, Baltic.
Visitation will be at the Motherhouse Chapel from 2-5 p.m. on Monday, March 20, and on Tuesday, March 21 from 1:30 until the time of the funeral. Guillot Funeral Home is assisting with the arrangements.