Peace and blessings to you from the SCMC Family!
As an SCMC Donor, or as a new visitor to our website, this area was designed with you in mind!
This is where you can see news and updates on our Sisters, find new ways to join in our mission, or ask questions.
Whatever brought you here, you have come to the right place ~ this area is just for you!
~ + ~
We have many friends who are praying for us, who help financially and join in our mission, we can reach out to so many people in need, and we are grateful.
Your concern enables us to be active instruments of God's love, healing and consolation in the lives of the many people we serve daily in our ministries. 
May our good and gracious God bless you abundantly for being an encouraging expression of His goodness to us and to others.
You generously help us succeed in fulfilling our mission. We do not take your generosity for granted. We strive to be responsible stewards of the resources you provide. It is because of you and your financial support that we are able to continue our many apostolic activities: training Sisters for a life of service; caring for our elderly and infirmed Sisters, educating our high school students, feeding the hungry in our community and helping wherever the need is greatest. You are a partner with the Sisters of Charity in all that we do.
As responsible stewards we promise to:
The Sisters of Charity of Our Lady, Mother of the Church has pledged to adhere to the highest standards of integrity and commitment according to the beliefs and teachings of stewardship as set forth by the United States Conference of Catholic Bishops.
For more information about our finances or your donation, please call 1-860-822-6323.
SCMC Caritas Prayer Chapel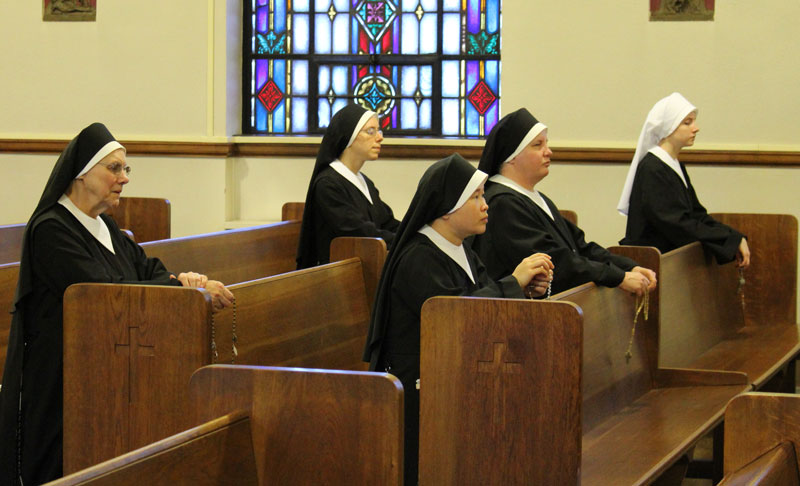 The Sisters and I pray for you every day. The Holy Sacrifice of the Mass is also offered on the First Saturday of the month for the benefactors and friends of our Sisters and for all the intentions entrusted to us.
If you have personal needs or petitions you would like the Sisters to pray for, please click here to send them to us.
For more prayer opportunities, please visit the SCMC Caritas Prayer Chapel.
We give you the gift of our prayers. God's blessings to you!
To read the weekly reflections from The Divine Dialogue of God with the Soul series, to see a previous news article, or for any announcements, please go to the 
News & Reflections page.
Find out what's happening with your favorite Sisters –and ours -the Sisters of Charity of Our Lady, Mother of the Church, in their newsletter, 
Would you like to order more of an item you have received from us in the mail? Has a friend given you one of our prayer books? Would you like to see what is available? 
Visit the SCMC Online Gift Shop!
To "meet" the Development Ministry Team, or to send us a message, please visit our Contacts page.
"With Mary, our lives continually proclaim the greatness of the Lord and the joy experienced in rendering service to Him."
Make a difference today ~ help us reach those in need!