Daily Considerations of the liturgical readings as they apply to our contemporary lives
By Mother Marie Julie, SCMC
My Dear Good People,
 The Word of God is living and active; it pierces more surely than a two-edged sword. (Hebrews 4:12-14)
       Each day during Lent let's briefly consider the liturgical readings as they apply to our contemporary lives.  No matter how many times we read a passage, it will always be new for us. I pray that these short reflections will provide the springboard for moments of prayer in your busy day. Let us pray for one another as we undertake this beautiful season of Lent.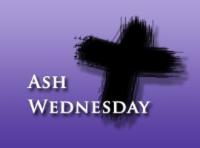 Depending on your diocesan guidelines you may or may not find yourself wearing visible ashes today. But if you had the opportunity, you received them in some manner and you can't forget they are there. Repent and believe the Good News. Nor can you forget that at some time in your life, either now or in the past, you ate small meals on this day. Turn to God with fasting.
       A strange way to think of our Catholic Christian life: ashes and small meals. But they have framed the spirituality of Christians for centuries, and they have once again become the framework of our Lent.
       Today, after a terrifying, troubled year of surprises, inconsistencies, deprivation, worry and loss, we approach the prospect of this Lent as a constant; predictable (except, perhaps, for the way we received the ashes), familiar, sobering and cherished. So let us embrace the discipline of Lent as a blessing to be savored. This, at least, is something we can count on. These six weeks of growing closer to Jesus through deeper prayer, creative fasting and generous almsgiving according to our ability promise to bring us to a glorious Easter. We have suffered for twelve months from a virus far beyond our control. Lent, at least, gives us the chance to choose our own way of holiness, if only for forty days. Look to the crucifix bearing the broken body of Jesus and breathe a prayer of love for Him who allowed Himself to become nothing that we might possess Everything in Him.
God bless you. Have a fervent Lent.
And reverence the thought of ashes and small meals today.