Latest News
Register now for this great opportunity!
Take some time this Spring for reflexion in a quiet, prayerful atmosphere. This retreat starting May 31, 2013 will give you time to pray, reflect, enjoy the company of other young women and the Sisters, receive the Sacraments and join us for our Corpus Christi procession.
In order to join us for prayers in chapel, please arrive by 4:30 pm Friday and bring some skirts or dresses for chapel.
We will be happy to pick you up at GreenAirport in Providence, RI or at the train station in New London, CT. Just let us know! Please plan your departure after 11:30 am if you would like a ride back to the airport or train station.
May God guide you during this exciting time of your life and may His Church benefit from the gift of your life whatever His Holy Will is for you. Let us rejoice in our love for God and His Holy Church and pray that God's Will be done in each of us every day. God bless you and I hope to hear from you very soon!
+1
0
Each year, the Institute on Religious Life holds its national meeting for Priests and Religious in Mundelein, IL.  They generously include special presentations for youth and young adults ages 13-25 at no cost to the participant!  This year's theme is:  "Celebrating the Year of Faith: Rediscovering a Faith Professed, Celebrated, Lived & Prayed."
This is a one day event for the youth/young adults (both male and female) that includes plenty of food, faith, and fellowship as well as the opportunity to meet many Priests and Religious from all over the country!  The Sisters of Charity of Our Lady Mother of the Church are organizing a group to attend this event.
If you are interested in attending please contact Sister Faustina, SCMC:
by phone at:  (608) 752-6709 or      by e-mail: sistermfaustina@sistersofcharity.com
Please R.S.V.P. by Friday, March 8, 2013.
0
0
On October 28th, Mother M. Bernard was given the Ann Seton Award along with Monsignor Henry Archambault and his brother Father Richard Archambault for their many years of dedicated service to Catholic education. The Elizabeth Ann Seton Award is given to support Catholic education. It was during the dinner that Mother spoke the following words:
Receiving the Ann Seton Award is very special and I never thought that this award would ever be given to me. However, I truly need to share this recognition with the many teachers who were an integral part of my school years and who so inspired me to do better each day.
This evening, the only word that fills my whole being is thanks. The acronym thanks will help me express what is deep in my heart.

T First I thank God for giving me the wonderful opportunity of being involved in Catholic Education. I thank God for everyone who was instrumental in bringing me to this moment. I thank God in a special way for my community who sent me to schools that prepared me for the apostolate of teaching and administration and then sending me to teach wherever I was needed.

H stands for the humbling experience of receiving such a distinguished award when I know that there are so many of you here tonight who deserve this award more than I could ever deserve it.

A is for the availability I witnessed of dedicated teachers who understood their role as teachers in a Catholic School and were totally committed to the philosophy of imparting a Catholic education to their students. These teachers were available to students who needed extra help after school. Many of these teachers left the school building hours after school ended.

N stands for the excellent nurturing that I saw practiced by the many teachers I worked with. Their patience and love for their charges were clearly seen with each new day.

K stands for the outpouring of kindnesses which I experienced daily through the many years of my ministry in Catholic education.

S stands for all the students I had the good fortune to enjoy.  I will always treasure the joy and worries you brought me. 'S' also stands for the support which enabled me day after day to come to school with a lighter step.  Here I need to thank two people who were always there to support me in all my endeavors. I am so blessed to have this opportunity to thank publicly Msgr. Tony for all his support. It never mattered how I felt, he would always lift my spirits. Msgr. - thank you.

And secondly, I thank Josephine McIvor for her unwavering support through many ups and downs.  She will always hold a special place in my heart. Jo – thank you.

I close with a saying I heard from one of Father Leo Clifford's conferences – "God gave us a memory so that we could have roses in December. "  I thank God for the beautiful roses that I will always cherish – memories which will lift my spirit as I reach the winter of my life.
0
0
School Stuff
Submitted by Stefan L. Sumsky, Assumption School, on 2012-08-04.
Lenora Sumsky
Tony Aufiero, Sister Joan Marie, SCMC and Thomas Fiengo.
Community involvement combines with environmental activism to make a real difference at Assumption School in Manchester. On the fourth, Saturday of every month, Sister Joan Marie Crapps, SCMC and a team of student and parent volunteers collect bottles and cans to take to a local recycling center. Local parishioners and involved citizens collect several hundred dollars in cans and bottles each month to help fund school activities.
Sister Joan Marie, a second grade teacher at Assumption, has been running a bottle drive much like this one for over 30 years. She began running the bottle drive at Holy Family Mother House in Baltic, shortly after Connecticut enacted its container deposit laws in 1978. She's very modest about her long-standing program. "I saw a need and I filled it," she humbly remarked when pressed. When Sister transferred to Assumption 5 years ago, she was eager to bring the bottle drive with her to her new home.
She is aided in her efforts by a dedicated team of volunteers. Together, they complete a variety of tasks, from sorting bottles and cans to placing signs advertising the event around the area. Tony Aufiero, father of a 2nd and 5th grader at Assumption, generously donates his time and energy to transport the numerous recyclables to a local processing center. Assisting with the drive just comes to Tony. "I'm not sure how I got started with Sister, but I really enjoy helping out," he said. Plans are in the works to give students the chance to complete their community service hours by helping out at the drive as well. "We need to get more people involved," Sister Joan Marie said.
The volunteers aren't the only ones helping with Sister's bottle drive. Throughout the three hour drive, donations are dropped off by people both young and old. One couple with a station wagon full of recyclables confessed that they don't use many bottles themselves, but go "dumpster diving" to help both the school and the environment.
The proceeds from the bottle drive are put to good use by Assumption school, as well. The majority of the funds raised goes in the (scholarship fund) to help students who otherwise wouldn't be able to enjoy the benefits of a Catholic school education. This year $2000 were raised for the scholarship fund. The remaining money is used to buy myriad essential school supplies, ranging from bibles and books about Saints to new headphones and computer programs.
Students and faculty at Assumption Middle School in Manchester are doing their part to keep their town green with a bottle drive. And they're always looking for more volunteers. "We need to get more people involved," Sister Joan Marie said. If you're interested in helping out, the drives resume on the fourth Saturday of August.
0
0
Please join Saint Elizabeth Nursing Home's 6th annual Golf Outing and Theme Basket Silent Auction. Save the date and support our residents at Saint Elizabeth's Nursing Home.
When: Thursday,  September 13th. Golfing begins at 11:00 am;  Hors d'oeuvres Reception and Silent Auction begins at 5:30 pm.
Where: Janesville Country Club 2615 West Memorial Drive
Janesville, WI  53547
$100: Lunch, Golf, Cart and Hors d'oeuvres Reception or:
$25: Hors d'oeuvres Reception and Silent Auction
Please call Kim Boyd for more information: 608 – 734-0472
0
0
The General Chapter of the Sisters of Charity of Our Lady Mother of the Church began on July 5 with the opening Mass celebrated by Father Tito in the Motherhouse chapel. Bishop Perry, from Chicago, worked with our Congregation to prepare for this event. We thank him for his inspiration and support throughout this process.
We are ever grateful to Mother M. Anthony for her spiritual guidance of our Congregation for the past twelve years. On July 19th, Bishop Michael Cote, bishop of Norwich presided over the election of the new Superior General. We invoked the guidance of the Holy Spirit and Mother Marie Julie Saegaert was elected. Following this, the General Council members were elected; they are: Mother Mary David, Mother M. Anthony, Mother Mary Jude, and Mother M. Christina. We congratulate our new Superior General and her Council as they guide our Congregation into the future. May God bestow His choicest blessings on them.
0
0
On the solemnity of Corpus Christi, June 19th, Sister Charles Marie celebrated her Golden Jubilee with the Congregation and on the following weekend she celebrated with her family and friends.  What a joyous occasion this was and we praise God for the precious gift of Sister Charles Marie and her vocation.  May she continue to live her religious consecration with love and joy. May God bless you Sister!
0
0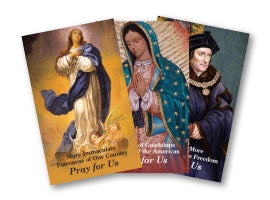 Dear family and friends, join the country in praying for religious freedom beginning on June 21—the vigil of the Feasts of St. John Fisher and St. Thomas More—to July 4, Independence Day.
O God our Creator, From your provident hand we have received our right to life, liberty, and the pursuit of happiness.
You have called us as your people and given us the rights and the duty to worship you, the only true God, and your Son, Jesus Christ.
Through the power and working of your Holy Spirit, you call us to live out our faith in the midst of the world, bringing the light and the saving truth of the Gospel to every corner of society.
We ask you to bless us in our vigilance for the gift of religious liberty. Give us the strength of mind and heart to readily defend our freedoms when they are threatened; give us courage in making our voices heard on behalf of the rights of your Church and the freedom of conscience of all people of faith.
Grant, we pray, O heavenly Father, a clear and united voice to all your sons and daughters gathered in your Church in this decisive hour in the history of our nation, so that, with every trial withstood
and every danger overcome— for the sake of our children, our grandchildren, and all who come after us— this great land will always be "one nation, under God, indivisible, with liberty and justice for all."
We ask this through Christ our Lord. Amen.
0
0
The Sisters of Charity of Our Lady Mother of the Church publicly and without reserve support the Catholic Bishops of the United States in opposing the Health and Human Services mandate requiring that all group health plans and health insurance issuers provide the full range of contraceptive methods and services under the Patient Protection and Affordable Care Act of 2010 (PPACA). We joyfully serve the poor and are deeply concerned about the need for universal healthcare for all Americans, rich or poor, working or unemployed, young or aged. We are, nevertheless, firm in our conviction that no law, even one purportedly aimed at the "common good," can be seen as "good legislation" if it opposes the moral law, requires persons of faith to betray their consciences, and is in flagrant violation of the freedom of religion clause of the Constitution of the United States.
The National Catholic Bioethics Center (NCBCenter) underscores this by pointing out that "the Rule [sic] is creating new law in terms of mandating contraceptive, abortifacient, and sterilization coverage with no co-pay by the enrollees." To mandate that faith-based organizations would disregard and contradict their belief in the moral law protecting human life at all stages, by offering health care coverage to their employees that subsidizes the destruction of or interference with the creation of human life is "literally unconscionable," as Cardinal designate Timothy Dolan of New York, President of the United States Conference of Catholic Bishops, has publicly affirmed.
The disconnect between the professed intent of the PPACA and the actual effect the Rule has on faith-based organizations is an obvious and disconcerting one. This mandate is "well beyond the  provisions of the PPACA, and the statutory intent at the time of its adoption" which was "to cover screening and prevention of pathological conditions of women" (in NCBCenter letter to Kathleen Sebelius, Secretary of the Department of Health and Human Services, September 27, 2011). Pregnancy has never been seen as a pathological event, but rather a normal physiological process (NCBCenter). Mandating Catholic and other faith-based organizations to provide insurance coverage for contraceptive drugs and devices as well as abortifacients and sterilization would require us to violate our moral consciences and our fidelity to the Magisterium of the Catholic Church. The Sisters of Charity of Our Lady Mother of the Church support our Bishops in our opposition to this. We cannot in conscience participate in carrying out this HHS ruling as it now stands.
Catholic social service agencies, healthcare facilities and schools serve millions of Americans each year. The Sisters of Charity of Our Lady Mother of the Church perceive our participation in the various ministries carried out in the Church to be a sacred task entrusted to us by God. Our mission is to build up the Body of Christ in a culture of life through education, healthcare and service to the poor. This federal mandate, on the contrary, threatens the very sanctity of life itself by promoting what the late Pope John Paul II so aptly termed The Culture of Death. The HHS Rule countermands both the Gospel of Jesus, which is a Gospel of Life, and the right of every American citizen to the free practice of religion and protection from any prohibition of the free practice thereof (First Amendment of the Constitution of the United States).
We ask all who cherish the freedom of religion given to us by the Constitution, and who stand in opposition to a federal mandate to provide insurance that covers most forms of contraception, to join the Sisters of Charity of Our Lady Mother of the Church in earnestly beseeching Almighty God, Source and Protector of all created life that He will inspire our legislative and executive leaders to reverse this onerous decision that threatens the very soul of our nation.
Praised be Jesus Christ.
0
0
Attention all women ages eighteen and older:
Is God calling you? If you are interested in religious life, we invite you
to visit our Congregation this spring and summer for discernment opportunities!
Choice of visiting dates:
Friday, June 8th-June 10th
Wednesday, July 25th-28th
Prayerfully discern God's will for you through daily Mass, Liturgy of the Hours prayed in community, Rosary, Eucharistic Adoration and much more!  Spend time with the Sisters, and learn more about their charism and way of life.  If you are unable to come at these scheduled times, feel free to make an appointment at your convenience.  For more information, please contact Sister Jacinta at 860-822-8241.
0
0